About the project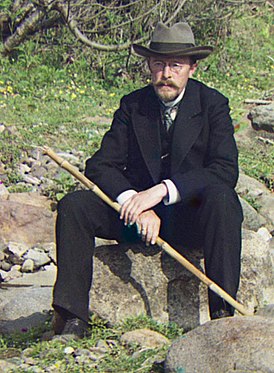 International research project "Legacy of S. M. Prokudin-Gorsky" was founded in 2008 and is devoted to studying the life and creative heritage of pioneer of color photography Sergei Mikhailovich Prokudin-Gorsky (1863-1944).
Head of the project is Vasiliy V. Dryuchin, Honored Teacher of the Russian Federation, the founder of the Museum of S.M. Prokudin-Gorsky in Moscow.
The main objectives of the project are:
creating the most comprehensive database of photographs of Prokudin-Gorsky;
correction of attribution errors;
search for the missing parts of the collection;
compilation of geographical directory and map of photos;
exchange of experience in the restoration of images;
promotion of creative heritage of the great scientist and photographer.
The project is being done jointly by enthusiasts from several countries. You can also get involved.
You can contribute to the project by:
taking part in any discussion at our forum;
making for the project digital restoration of Prokudin-Gorsky's images;
making photos of the same views and objects as Prokudin-Gorsky did (for comparison);
providing us with any suggestions and remarks on the content of project;
assisting us in locating and copying the archival and library sources related to the Prokudin-Gorsky and his collection;
telling about the project to all those who may be interested in photographic legacy of Prokudin-Gorsky.
In the case you have any questions or suggestions, please do not hesitate to contact us by email info@prokudin-gorsky.org.
Acknowledgments
Participants of international research project "Legacy of S. M. Prokudin-Gorsky" are very grateful to all people who contributed to the project, especially to the descendants of S. M. Prokudin-Gorsky and to the Library of Congress.